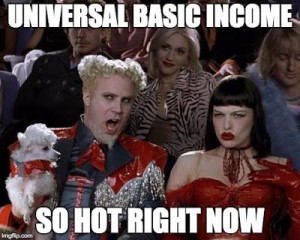 I've been hearing the term "post-scarcity economics" tossed around more frequently in recent memory, including by a lot of smart people, and usually in the same sentence as "basic income". A college friend of mine (who I have economics debates with somewhat often) as well as the commenter "crocket" bring up post-scarcity quite often, and believe that this condition fundamentally changes the nature of our economic lives.
I must confess that I don't fully understand what they mean when they refer to "post-scarcity"; having now done significantly more research into it, I can see that this is partly because the term is used inconsistently (some people even claim that we've already reached a post-scarcity world!). My initial reaction has always been: "Post-scarcity? There's no such thing! Even if all goods and services became superabundant, there would still be scarcity in terms of time and space, so the laws of economics will still hold true! Ha!"
And yeah – to the straw man I had created in my head, this is still the correct response. But the actual arguments regarding post-scarcity are at least sometimes a bit more nuanced. In this article, I will explore this concept a little more thoroughly, with a particular emphasis on the alleged implications of a move towards a more post-scarcity world: massive technological unemployment and the need for a basic income guarantee (BIG – or universal basic income, UBI). While I will ultimately arrive at the same conclusions (that is, free markets are still the way to go), I will have to put in a little more effort to defeat those arguments and policy proposals.
What Does It Mean To Be In A "Post-Scarcity" World?
Here, I will attempt a sort of Ideological Turing Test with respect to arguments regarding post-scarcity economics. If I have not presented the arguments properly, my apologies – please leave a comment and let me know.
For a very rough idea of what a post-scarcity world would look like, consider Star Trek. Although far from a perfect example of a world beyond scarcity, a piece of technology called a replicator allows for the creation of any material good, quickly and easily, and at no cost. Want some beef tenderloin? Boom, you got it. How about a diamond-studded file cabinet? No problem. Why do you want that? Doesn't matter.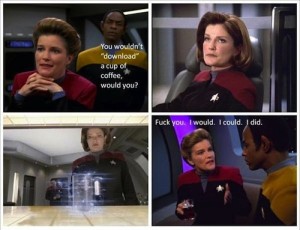 It sounds implausible (and friggin awesome!), but it isn't all that farfetched to think that as technology progresses, something close to a replicator may one day exist. Advances in nanotechnology are bringing us closer to that reality; as 3D printing gets more and more economical, it will certainly become cheaper and cheaper to produce nearly any material good, massively driving down scarcity. Perhaps in 100 years, individuals will be able to 3D print their own disposable private jets at a fraction of the cost of a flight today.
Ultimately, this could lead to a world where goods, services, and information are universally available to individuals without the need for employing capital or engaging in exchange with others in order to acquire them. But before getting carried away in fantasizing about this future, let's consider what this would actually mean for real people. As manufacturing and services become automated, more and more of the jobs that people need to survive will disappear.
This is where people like me will usually chime in and accuse those espousing the idea of technological unemployment of succumbing to the Luddite fallacy. We argue that technological unemployment does not occur because, while automation may displace workers, the increase in productivity simultaneously leads to lower prices, which then stimulates demand in new industries, leading to the hiring of more workers. Clearly, this has been the case throughout most of human history. But automation is accelerating at an unprecedented pace (some estimate that 47% of jobs in the US will be automated within the next 20 years), so do we have any assurances that this will continue to hold true?
Scott Santens (thank you to "crocket" for pointing me to his articles) provides an example of this kind of acceleration:
"Web design is a newer job. It hasn't been around very long. However, it's already easier for people to create their own websites, and it's also easy for someone in India or China to design a website at a much lower cost than others can possibly bid who have higher costs of living. A barber in the US doesn't compete with barbers in India, but a website designer does. And the ease of website creation tools makes web designers less necessary, even though this was a job that was JUST created recently."
Here's my own formulation of this possible progression:
Robots replace factory workers at creating some good.
The price of that good decreases, leading to increased demand for all sorts of new things, leading to job creation in other industries. New workers need to be hired to design these robot workers as well.
A robot-building robot is created, so the employees of the robotics company all lose their jobs too.
And even if the Luddite fallacy is correct and that, in the aggregate, jobs aren't lost due to automation, there is still the issue of preventing the temporarily displaced workers from falling into poverty between jobs. When a new mousetrap is invented, how do we ensure that the employees at the obsolete mousetrap factory don't starve? And what happens as better mousetraps are invented faster and faster?
First, let's consider the nature of the new jobs that are created as technology progresses. If factory workers are displaced and robot-software writers are in higher demand, it's not as though the low-skilled former factory worker will suddenly start designing robots. The new jobs may require certain skills – skills which the displaced workers won't magically possess. This suggests things like unemployment insurance or retraining programs may be appropriate governmental responses.
Even that might be too optimistic, however. It assumes that the jobs that automation is destroying are low-skilled (and thus low paying) ones, and that more highly-skilled (and lucrative) jobs are being created. But what we've actually seen is that middle class jobs are largely disappearing, high-skilled jobs have been stagnant, and most job growth has been in low-skilled (and low-paid) industries – and those low-skilled jobs are at further risk of automation in the future anyways. In the meantime, of course, these low wage jobs aren't necessarily the most satisfying ones. If technical progress is so great and not causing problems, then shouldn't our lives be getting easier? Shouldn't we be working less? After all, that was the case for most of history, where labor-saving technology has reduced working hours and increased standard of living.
But that doesn't appear to be the case. Those who continue to work (and even that number is in decline) are working longer hours than before, as Scott Santens points out.
"The combined effects of technology and the globalization enabled by it are eating jobs, but for those left working (who are by and large earning less), they actually need to work more. Instead of jobs requiring the 5-6 hours of work a day they actually on average now require, we clock in more than 8 hours as a matter of survival. Instead of working one full-time job 40 hours a week, we work one full-time job 47 hours a week, or multiple part-time jobs even more than 50 hours per week to compensate for the lower pay."
The solution that he proposes is to sever the connection between work and income – perhaps by instituting a basic income guarantee, where the government gives everyone some amount of money without any conditions or strings attached.
"If technology has reached the point where hardware and software are together doing much of our work for us, then we have to pay each other what our technology is not earning as income and not spending into the economy as a consumer. We have to give it to ourselves and spend it ourselves, because it's not going to…We need to make sure everyone starts earning a non-work related income so that everyone can be consumers in an economy increasingly populated by non-human labor."
Markets are sub-optimal under current conditions. People without money cannot "vote with their dollars" for the goods that they want, but a basic income could address this problem.
"Right now only those with the means to pay for bread have a voice for bread. We love to use the term, "voting with our dollars". So is the outcome of that daily election accurate? Does everyone have a voice for bread? No, they don't. There are people with no voice, because they have no dollars. The only way to make sure the market is working as efficiently and effectively as possible to determine what should be getting made, how much to make of it, and where to distribute it, is to make sure everyone has at the very minimum, the means to vote for bread. If they have that money and don't buy bread, there's no need to make and distribute that bread. If the bread is bought, that shows people actually want that bread."
People such as myself often complain that a basic income would dramatically reduce work effort, but when tested, the reduction in employment or hours worked has been small.
"The findings from the accompanying large-scale experiments done in cities like Seattle and Denver found that surprisingly, hardly anyone actually stopped working, and instead reduced their hours slightly, with men reducing their hours the least – by a maximum of 8%. This slight reduction in hours was then replicated to even less of a degree in Canada's Minimum Income (Mincome) experiment, with men choosing to work as little as 1% fewer hours."
For a little while, the robotic revolution started to look bad – but with a basic income, it is something to be celebrated! We can work towards a future where jobs simply aren't necessary. Everyone gets paid, everyone can afford to live, and time will be freed up for people to work on things they are passionate about. More art, more music, more leisure, more open-source collaboration….more creativity, in general. In other words, a basic income would help us truly usher in a more Star Trek-esque existence! From Rick Webb's influential article on The Economics of Star Trek:
"Imagine there's some level of welfare benefits in every country, including America. That's easy. That's true. Imagine that, as the economy became more efficient and wealthy, the society could afford to give more money in welfare benefits, and chooses to do so. Next, imagine that this kept happening until society could afford to give the equivalent of something like $10 million US dollars at current value to every man, woman and child. And imagine that, over the time that took to happen, society got its shit together on education, health, and the dignity of labor. Imagine if that self-same society frowned upon the conspicuous display of consumption and there was a large amount of societal pressure, though not laws, on people that evolved them into not being obsessed with wealth. Is any of that so crazy? Is it impossible?

…

"Citizens have no financial need to work, as their benefits are more than enough to provide a comfortable life, and there is, clearly, universal health care and education. The Federation has clearly taken the plunge to the other side of people's fears about European socialist capitalism: yes, some people might not work. So What? Good for them. We think most still will.

…

"…presumably, you take whatever job you want, and your benefits allocations are adjusted accordingly. But by and large you just don't care, because the base welfare allocation is more than enough. Some people might care, some people might still care about wealth, such as Carter Winston. More power to them. They can go try and be "rich" in some non-Federation-issued currency. But most people just don't care. After all, if you were effectively "wealthy" why would you take a job to become wealthy? It pretty much becomes the least likely reason to take a job."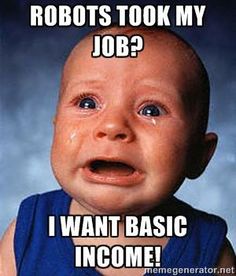 But, as Marshall Brain argues, this is not inevitable, and we are at a fork in the road where society can either move towards this amazing future, or degenerate into a cesspool of inequality and poverty.
"With most of the rank and file employees replaced by robots and eliminated from the payroll, all of the money flowing into a large corporation has only one place to go — upward toward the executives and shareholders. The concentration of wealth will be dramatic when robots arrive."
Workers will get none of this, because there will be no workers. The basic income will prevent the masses of unemployed from falling into abject poverty, while freeing people to innovate.
"It would be a huge boost to the American economy:

The economy would be strong because of all of the consumer spending.
The economy would be stable because income (and therefore spending) would be guaranteed.
With $25,000 per year to spend, innovators would no longer be forced to work — they could focus their energy on innovation, living off of the $25K per year they receive. Inventors would have time to invent, writers to write, entrepreneurs to breed new companies, etc. They could devote all of their time to innovation.
There would be billions of dollars for people to invest, especially in their own businesses. And investors would have a stable marketplace into which to introduce new products.

Most importantly, it would create a nation where the citizens are truly free. If every person had $25,000 per year in today's dollars to spend, they would be able to live their lives even if they lost their jobs. If robots took their jobs it would not be catastrophic. People would be able to weather the robotic takeover, retrain and move into new careers."
Of course, giving everyone $25k/year will be expensive – where will that money come from? He proposes a few suggestions, some better than others.
Sell ad space on the back of dollar bills
As in Alaska, the revenue from government selling natural resources can be put towards basic income
Fining corporations for flouting regulations
Auctions of state property [I like this one!]
Lotteries [but then the money is coming from the rubes who buy into the lottery…doesn't seem like much of a solution to me]
"Extreme" income taxes on wealth above some high amount
"Extreme" estate taxes
"Excessive" profit taxes
Sin taxes and/or taxes on luxury items
Selling copyright extensions
Selling naming rights
Punitive damages from lawsuits can go into a central fund and be disbursed to the people instead of going into government coffers [I kind of like this idea…but shouldn't the punitive damages go to the victim, rather than everyone?]
A national mutual fund, owning shares in every corporation in the US and that every citizen has equal ownership. When a company incorporates, some percentage of its shares are automatically given to the fund. Or, when a corporation declares retained earnings, some of these are used to buy up shares and provide them to the national mutual fund.
Of course, much of the funding would come from dramatically reducing or eliminating other welfare programs and subsuming all aid under the basic income banner.
By the way, for a more "moderate" view of what to expect during the progress toward post-scarcity, I recommend reading the essay "Economics of the Future" by Melanie Swan.
The Real Path To Post-Scarcity
Okay, Ideological Turing Test over. Note that many if not most supporters of the basic income would not think of their position in the way described above – not everyone supports it on the basis of technological unemployment and post-scarcity. I suspect that the majority of progressives who support basic income do so because it "helps the poor" or some generic platitude like that. There are even a good number of libertarian supporters of basic income, including Matt Zwolinski and Peter Vallentyne, who think that it would be a better replacement for the bloated and inefficient welfare state.
It's also becoming more important to address the arguments over basic income considering how it is becoming more significant politically, and will likely become a reality in some places in the near future. But before discussing the issues with a basic income, I want to make a few comments regarding the post-scarcity argument sketched above.
The otherwise brilliant Stephen Hawking essentially summarizes the argument as follows:
"If machines produce everything we need, the outcome will depend on how things are distributed. Everyone can enjoy a life of luxurious leisure if the machine-produced wealth is shared, or most people can end up miserably poor if the machine-owners successfully lobby against wealth redistribution. So far, the trend seems to be toward the second option, with technology driving ever-increasing inequality."
But how does this make sense? If goods are superabundant, how can people be miserably poor? Presumably, the massive class of poor people would exist if all of the superabundant goods are owned by a wealthy elite who refuse to share (and if they have more than they know what to do with, why wouldn't some of it get shared?). This seems like an odd conclusion to me, for a few reasons.
First, if technology makes most goods ridiculously cheap or even free, then these goods would be accessible even to poor people. In particular, the prices of the factors of production, such as robots or other automation technology, will go down dramatically as we move towards this world. As 3D printing gets cheaper and cheaper, we get closer to the world of "replicators". Since the means of production are cheap, they are easily available to a wide segment of the population, which allows this large group to become effectively self-sufficient. I don't really need a job if I have a machine that lets me print my food, clothing, etc. There's no need for a basic income or any kind of wealth redistribution here.
Not only that, but the proliferation of machinery doesn't preclude people from working in exchange for money. So long as an individual's marginal productivity is greater than zero, there is something that they can do (unless government regulations like the minimum wage get in the way, of course). Machine ownership doesn't eliminate gains from trade, so machine-owning people will still specialize in things and exchange goods and services with others. If there is economic activity like this, then people will be capable of supporting themselves – with a vastly higher standard of living.
In general, it seems like those who support the basic income on the basis of post-scarcity economics do so as a step on the path to a post-scarcity world, but find it somewhat irrelevant once we have reached post-scarcity, since goods are freely available. But there are certain goods or industries where we have already reached post-scarcity; for instance, digital goods (intellectual property laws merely get in the way of true post-scarcity here). If we've reached post-scarcity in some industries without basic income, why would it be necessary for ushering in post-scarcity in general?
The reality is that, absent government intervention, the path towards post-scarcity will be a wonderful one. It has already been happening since the advent of capitalism, despite the ways in which governments and their corporate allies collude to produce artificial scarcity. Poverty has dramatically declined over the previous two centuries.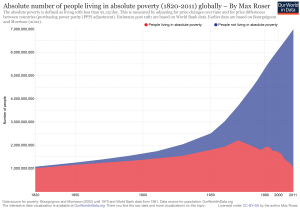 As scarcity continues to be reduced over time via capital accumulation, people will become increasingly rich, just as we are incredibly wealthy now compared to people in the Middle Ages. Back in the day, the norm was subsistence living. Nowadays, most of those we consider poor have things that would have been considered luxuries 100 years ago, and are certainly not living in their own filth like the masses did prior to capitalism. I'm not saying it's great to be poor today (plus, there are still some living in truly abject poverty, but mostly in the third world), but the life of today's poor is incomparably better than that of nearly everyone before capitalism and (relatively) free markets led to capital accumulation.
So, moving forward, what happens as this process of technological advancement and capital accumulation accelerates dramatically? Does technological unemployment become the serious issue that post-scarcity theorists (and Stephen Hawking) imagine?
More likely, as we got closer and closer to replicator-like devices, production costs would drop dramatically faster than wages would, such that real incomes would skyrocket. If a year's worth of food costs a dollar, people would be willing to work for dramatically lower nominal wages. Someone making "merely" a dollar per day in this world would have access to more real resources than most of us are used to. Who cares if 90% of today's jobs are wiped out by automation? Anyone would be happy to work for a dollar per day (or less), and anyone who does have resources would hire them to do whatever – perhaps things like creating art, music, and literature to increase culture in this post-scarcity world. What about the "worst" case scenario where machines replace all our jobs? That would be fantastic! We could just sit around and enjoy it!
The upshot is that robots and automation will make us incredibly wealthy, and our lives vastly easier. Comfort and even luxury will be available to the masses. This could very well reduce the "need" to work or "eliminate jobs" in a certain sense. It will allow people to pursue whatever they want – writing, making music, inventing things, coding, etc., with far less pressure to survive, and far more freedom. This is a fantastic thing, and does not require basic income at all. It makes surviving and thriving even without a basic income that much easier. In fact, a basic income is liable to delay or even prevent this future from occurring.
Let's keep in mind that we will not reach post-scarcity due simply to technological advances alone. While necessary, the accumulation of sufficient capital is also necessary to allow us to utilize these technologies. And capital accumulation is far from a given – government policies that discourage production, savings, and investment will all slow it down, or even lead to capital destruction. The basic income discourages work, and thus production. It also discourages saving and investment, due to the higher taxes involved as well as the existence of a safety net which would leave little incentive to save. Those who argue for basic income seem to believe that production just happens on its own, and has nothing to do with the existing institutional structure.
Ultimately, technological unemployment comes from automation advancing more quickly than people can learn new skills. But perhaps technological advances will close this gap as well. Brain-computer interfaces could allow us to more directly upgrade the human mind so that we can easily adapt to new job demands as they crop up, should we so desire. This would arguably make the whole discussion moot.
Basic Income Problems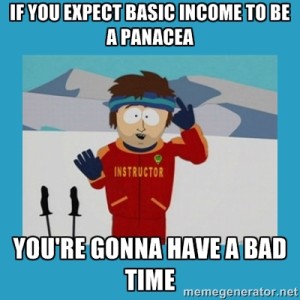 The favored policy proposal of those futurists looking to usher in a post-scarcity world is some variation of basic income. I say "variation" because most of what has actually been tested in the real world is a negative income tax (NIT), something a little different from the basic income, which is just a flat payment for everybody. The NIT would be a single payment that supplements the income of the unemployed or low-paid, and gradually decreases as income rises. Both policies share the quality of providing a minimum income for everyone. In practice, the two are essentially the same, since basic income proponents generally concede that it would be necessary to "claw-back" some funding from the rich through the tax system in order to make it affordable. The NIT provides an amount of money that varies by income, and the basic income provides the same amount to everyone but taxes different amounts to make it back. As such, I will largely consider the two policies interchangeable in this section (and use the term "basic income" to mean either, unless otherwise specified), though technical details differ.
Supporters of basic income proposals often point to several experiments that were done during the 20th century and showed, according to them, that the primary fear of basic income detractors – reduced work hours and employment – did not materialize. Unfortunately for its proponents, these basic income experiments need not be interpreted so generously, and contain methodological flaws that are even more damaging. A great summary of some of these experiments is provided by John Goodman:
"The experiments were all controlled. Randomly selected people were assigned to a "control group" and an "experimental group." The latter received a guaranteed income, and the program even used Milton Friedman's term for it: a negative income tax. The largest, longest and best-evaluated of these experiments was SIME/DIME (Seattle Income Maintenance Experiment/Denver Income Maintenance Experiment) in Seattle and Denver. And the results were not pretty. To the dismay of the researchers, they largely confirmed what conventional wisdom had thought all along. As I reported in "Privatizing the Welfare State":

The number of hours worked dropped 9% for husbands and 20% for wives, relative to the control group. For young male adults it dropped 43% more.
The length of unemployment increased 27% among husbands and 42% for wives, relative to the control group. For single female heads of households it increased 60% more.
Divorce increased 36% more among whites and 42% more among blacks. (In a New Jersey experiment, the divorce rate was 84% higher among Hispanics.)

BTW, these results have been studied and studied over and over again and there is a large literature on them ― almost all of it written by researchers who detested the outcomes. Good summaries are provided by Charles Murray and Martin Anderson.

Both authors point out that the results are even worse than they appear at first. For one thing, the "control group" had access to conventional welfare available in the 60s and 70s. So this was by no means a pure (welfare free) control group. Also, the enrollees were given different instructions about how long they could expect their guaranteed income to last. It turns out that the longer the guarantee, the worse the negative effects." [emphasis mine]
In other words, these basic income experiments demonstrate what us detractors most fear – a demonstrable loss of work effort. Many of the post-scarcity writers look at this as a positive, but as we saw above, we need people to continue working and producing if we are ever to achieve this post-scarcity dream. 
A basic income supporter, Philip K Robins, analyzed the consensus estimate of labor supply effects of these negative income tax experiments. The conclusion is that males and heads of households worked two fewer weeks less per year, wives and single women head-of-households lost three weeks per year, and youths supplied four fewer weeks of labor. Since women and young people generally work fewer hours than men, the percentage decrease in their labor supply was dramatically greater. What social effects might this have, as youth grow up and become heads of households, but have significantly less work experience?
These estimates of labor supply lost may not seem catastrophic, but methodological issues with these studies suggest that the effects of basic income policies could be substantially worse. These experiments take place over a very limited time and space, so peoples' expectations about the future of the program are very different. If the basic income experiment only exists in your town and for only a couple years, you know you will need to work in a few years or if you move, so you are more likely to continue working now in order to keep up your skills and employability (though in some experiments, recipients continued receiving benefits even if they did move). But if a basic income were widely applied, people wouldn't expect to need to work a year later. In other words, the basic income experiments are heavily biased. Research (Halla et al) demonstrates that the effects of the welfare state take time to kick in, so these experiments that only lasted for a limited period of time are not accounting for the full employment effects.
"Our findings corroborate the theoretical literature which assumes that disincentive effects of a generous welfare state materialize only with some time lag. In particular we show that a high level of public social expenditures and a high unemployment rate are associated with small positive (or no) immediate impact on benefit morale, which is crowded out by adverse medium and long run effects…Our results are consistent with the fundamental supposition that individuals do not response [sic] to changes in economic incentives immediately, since they are constrained by social norms for some time. Essentially, our results suggest that the welfare state destroys its own (economic) foundation and we have to approve the hypothesis of the self-destructive welfare state."
For what it's worth, there is some empirical evidence that a basic income, as opposed to a negative income tax (the above experiments used a NIT), is likely to cause even greater labor supply issues. As the fraction of negative income tax recipients increases in a population, the number of labor hours decreases. The basic income, of course, raises that fraction to 100%.
In addition, these experiments do not create "closed" systems, where the costs of the program are borne in aggregate by the same group who benefits. The tax revenue for a larger geographic area is used to fund an experiment over a small subset of it, so only the positive aspects of basic income are studied, without looking at the costs. In other words, if the town where the experiment was conducted saw an uptick in economic activity, this is because they sucked money out of other areas. A properly run experiment would have Seattle taxpayers funding the Seattle basic income.
A study by the Boston Fed analyzed the basic income/negative income tax experiments in more detail, both positive and negative effects. Here are a few:
"As much as 40 to 58 percent of the added transfers for two-parent families would be offset by earnings reductions on the part of husbands and wives. The problem is less severe in the case of single mothers, where earnings would fall by only 16 to 20 percent of additional costs."
Luckily, recipients did not squander their money on fancy cars and drugs, like some conservatives fear: "Consumption rose modestly, as would be expected with a slight rise in income, but the pattern of expenditures remained unchanged from that which existed in the absence of the payments."
Youths spent additional time and money on education, at least during the experimental period. However, scholastic performance did not improve.
There was no beneficial impact on healthcare outcomes or psychological well-being.
The study also noted some issues with the experimental design.
"Arnold Zellner and Peter Rossi touched off a heated debate with their sharp criticism of the goals, design, execution, and analysis of the income maintenance experiments. In their opinion, inadequate attention was devoted to formulating clear-cut objectives. For example, to the extent that the goal was to estimate the cost of alternative negative income tax plans, the experiments were not really designed to provide the appropriate information. Feasibility studies or pilot projects were generally nonexistent. Serious measurement problems were not adequately resolved. Design statisticians, survey experts, and other specialists did not play an active enough role in the planning and execution of the experiments. Management and administration procedures were not completely satisfactory, Policymakers and researchers did not share clearly stated objectives. The experimental designs and the models on which they were based were frequently inadequate. Finally, the quality of reporting of results left much to be desired."

…

"Charles Murray added three other reasons why the experiments failed to determine whether the negative income tax was good policy. First, no minimum baseline income standard exists that will enable everyone to have a decent standard of living. The conventional poverty index is meaningless, because it cannot discriminate between living a low-income life in the inner city and in a small town. A family at the poverty line might live decently in a civilized, functioning community, such as a small town in Missouri or Colorado, but be unable to survive on two or three times that amount in the South Bronx. Second, no one has considered what happens after a negative income tax is introduced nationwide and some people still have inadequate food and shelter; the merits of an income maintenance scheme that supplants the current system are very different from one that supplements it. Finally, the experiments were forced to focus on measurable outcomes and therefore provide no insights on noneconomic rewards, such as the psychic gains that people receive from earning their own income." [emphasis mine]
There was an actual historical instance in Speenhamland, England, where a basic income guarantee was instituted which is far more instructive than looking at these flawed experiments.
"The experiment was the Speenhamland system, which was implemented in England 1795 and dismantled in 1834, was intended to make sure that country laborers had enough income to live. It was intended as an emergency measure to help the poor when grain prices had risen sharply due to meager harvests. The justices of Berkshire decided to offer income support to supplement wages, with the amount set in relation to the price of bread and the number of children in the household, so that the destitute would have a minimum income no matter what they earned.

Even though it was never codified as law, the Speenhamland approach was adopted in country towns all across England and in a weaker form in some factory towns. It was widely seen as a "right to live." It was neither universal nor consistently implemented, but it nevertheless appears to have been fairly widespread. It reached its peak during the Napoleonic Wars, and was wound down in many small towns before it was effectively abolished by the new Poor Law of 1834. Not surprisingly, the Speenhamland system existed in its strongest and most durable embodiment in areas where the threat of violence by the impoverished was real. But another reason it lasted as long as it did despite the costs it imposed on local landlords was it kept the poor in place with their wages fixed at a bare subsistence level. Rural property owners wanted to keep workers from decamping to towns and cities in search of better paid employment. A smaller pool of local laborers would lead to higher wage levels." [emphasis mine]
The basic income also dramatically reduced productivity. Quoting Karl Polanyi,
"Under the Speenhamland Law, a man was relieved even if he was in employment, as long as his wages amounted to less than the family income granted to him by the scale. Hence no laborer had any financial interest in satisfying his employer….Within a few years, the productivity of labor declined to pauper level, thus providing an added reason for employers not to raise wages above the scale. For once the intensity of labor, the care and efficiency with which it was performed, dropped below a definite level, it became indistinguishable from "boondogling"…" [emphasis mine]
How is this more humanitarian? How would this help usher in the prosperous, post-scarcity world that we seek? The effect was to make people complacent, but remain living at a subsistence level – while simultaneously decreasing overall productivity in the economy as a whole. Clearly, this result would hamper progress towards post-scarcity.
That being said, there are admittedly both pros and cons to a guaranteed basic income. Michael Tanner of the Cato Institute performed an analysis. Some advantages include
More transparency than our current system
Potential savings on administrative costs
It is less intrusive and paternalistic to the poor than the existing hodgepodge of programs.
If administered properly, it could replace some of the disincentive to work that current welfare programs provide, by not penalizing individuals who do choose to work. For more on this, see Ed Dolan's articles here and here.
It could reduce the bias against marriage that current welfare schemes have.
Done properly, I believe that a libertarian could reasonably support a basic income if it completely substituted the awful welfare programs that already exist. However, it is poor policy on its own, and it is far from certain that it would end up replacing welfare rather than just getting added on top of it.
The cost of implementing a basic income would be enormous, particularly if it didn't replace Social Security and Medicare – programs that, politically, would be vastly more difficult to replace than the standard welfare programs.
"The current poverty level for a single nonelderly individual is $12,316. Spread over 296 million U.S. citizens, the cost of such a program would be nearly $4.4 trillion, more than our entire federal budget today, and more than 4 times our current welfare expenditure (including both federal and state welfare spending). Even if the guaranteed national income replaced every existing anti-poverty program, we would still be some $3.4 trillion short."

…

"According to the most recent Congressional Budget Office estimates for the cost of federal programs, eliminating all income transfer programs—the entire edifice of the American welfare state—including Social Security, Medicare, Medicaid, unemployment insurance, and so forth (but excluding tax expenditures), would yield only $2.13 trillion. If we also included so-called tax expenditures such as the mortgage interest deduction and the exclusion of employer contributions, as well as Social Security, and EITC and CTC related tax expenditures, we could add an additional $393 billion for a total of $2.5 trillion. That still wouldn't be enough." [emphasis mine]
The basic income would also provide an absurdly large windfall for families with lots of children. Each marginal child costs significantly less to raise, so large families could be raking in far more than the poverty level, particularly compared to single individuals. Surely, there would be abuses – parents who have children solely to collect the extra money, but don't actually take care of their kids. Of course, this issue could be eliminated by only giving adults the benefit, rather than everyone. If payments were restricted in this way, the cost of the program would decrease to a "mere" $2.7 trillion, which is still too high (and the added complexity of the program would require further administrative costs).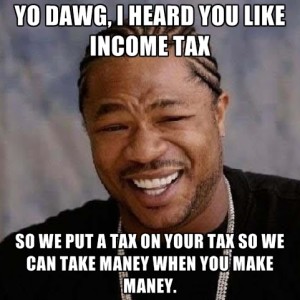 As an aside, there are some who, following Georgist philosophy, believe that funding from natural resource rents could be used to provide a livable income for everyone. These people grossly overestimate the value of these rents. I will not go into detail here, but the interested reader can check out this and this.
Other factors will add to the practical complexity and difficulty in implementing a basic income guarantee. What is to be done about immigration? If the US had a basic income, the borders would need to be locked down in order to stem the influx of immigrants from poor countries, or else see the costs of the program skyrocket further. But a primary argument in favor of basic income is the humanitarian one of making sure everyone can live a life without abject poverty. It seems, to me at least, that excluding foreigners who most likely need that money more would run counter to this intent.
And what about people with disabilities? Are they paid the same amount as everyone else, despite clearly having a higher need? Do we need to bring disability insurance back into the overall welfare scheme? It seems highly unlikely that a basic income would actually be as simple as its proponents claim, or that it would eliminate all other welfare benefits. And all of this added complexity, of course, adds further administrative costs. Think of it this way: if someone gets sick, did not purchase health insurance, and requires more health care than they can afford with the basic income, do you honestly think people will just say "okay, it's time for you to die now!"
There will also be regional differences in what a livable income would be, so payments could not simply be the same for everyone. A livable income for someone in rural Montana might be four times less than someone living in a major city. And what happens when people move? Or for people who travel frequently? Again, more administrative costs.
Political pressure will likely lead to increases in the per person expenditure as well, making the program more and more costly over time, more prone to special interests, and could add further complexity and administrative costs to the program.
A paper by Peter Boettke and Adam Martin explored the political issues surrounding a basic income. Making major changes to any redistributive program would lead to disharmonies of interests, and thus winners and losers…and the concomitant lobbying efforts to capture the benefits or avoid the losses that a basic income guarantee would entail. Either taxes need to be raised, or existing programs would need to be cut, or both; in any case, rent-seeking will surely occur.
"If the BIG were to be funded by new taxes, they would in all probability be progressive. Tax burdens apportioned "progressively" by definition fall asymmetrically across the population, laying the groundwork for both rent-seeking and countervailing distributional forces to work from the bottom up (c.f. Wagner 1989, Ch. 4). A tax burden concentrated on the rich creates a strong incentive for a small group to lobby to introduce various loopholes and provisions to offset the burden."
There would be some small groups where a disproportionate share of the cost of the basic income would fall. These groups clearly have an incentive to lobby for restrictions on who receives the money. How long before former convicts are excluded? Or drug tests become mandatory?
How long before some opportunistic politicians are calling for a suspension in basic income payments to the wealthy, particularly during a fiscal crisis (and given the expense of a basic income, there surely will be some)? How long before that politician proposes that payments to the poor increase when the economy is doing poorly? It's easy to see either of these measures succeeding, and they would both create interest groups that are likely to engage in rent-seeking.
"The same forces that make concentrate gains on special interests in the current system will be at play in any attempt to reform the system. But regardless of whether BIG replaced or were added to other policies, its passage would be at the mercy of special interests in order for it to be passed at all. How long would the debate proceed before a proposal like "supplements" to basic income for the needy or the deserving (i.e., public employees such as teachers) were proposed?"
I suppose, in theory, a constitutional amendment establishing basic income could reduce some of these problems. But then, how could all the complexity that IS necessary (for instance, regional differences) in a basic income policy be enshrined in the hard-to-alter constitution? How would any necessary changes be implemented effectively? And, perhaps most importantly, the constitutional has proven itself time and again insufficient for protecting the rights of Americans.
Conclusion
The dream of a post-scarcity world is an alluring one. The future may be filled with Star Trek-like replicators, allowing us to be live in comfort, free from the need to work, and with the time to pursue our personal interests at our leisure. Many futurologists and progressives believe that we are at a fork in the road – either adopt a basic income and move towards this fantastic post-scarcity world, or live in a dystopian world with a tiny elite that own all the machines and a mass of unemployed living in poverty.
These theorists lack a basic grasp of economics. We may one day approach something like that post-scarcity world, but it will require capital accumulation to get there. A basic income would result in a loss of productivity from a decreased work effort and withdrawal from the labor force. This could lead to the consumption of capital, or at least slow its growth; in either case, the basic income takes us further away from post-scarcity.