If in some smothering dreams you too could pace

Behind the wagon that we flung him in,

And watch the white eyes writhing in his face,

His hanging face, like a devil's sick of sin;

If you could hear, at every jolt, the blood

Come gargling from the froth-corrupted lungs,

Obscene as cancer, bitter as the cud

Of vile, incurable sores on innocent tongues –

My friend, you would not tell with such high zest

To children ardent for some desperate glory

The old Lie: Dulce et decorum est

Pro patria mori.

(The Latin phrase is roughly translated as "It is sweet and honorable to die for one's country") – William Owen, a British soldier who died in the trenches just seven days before the Armistice was signed on November 11, 1918
Of all the things that I find frustrating and despicable about modern American society, it is the cavalier attitude towards war exhibited by the vast majority of Americans. There are some pockets of genuine anti-war sentiment on the fringe left and the "isolationist" Old Right and libertarians. But there is a bipartisan agreement, in deed if not in word, that war is tolerable, acceptable, good, or even morally required in an increasing number of cases.
I wasn't always the whack-job libertarian that I am now; up until about my junior year in high school, I looked at the world as though it was a chess board, with America and her allies being "the good guys." At the time, war had merely seemed like a means to an end. To make the world safe, America needed to be the dominant power at all costs. And since we were America – the "indispensable" nation, the "exceptional" nation, and the clear occupants of the moral high ground – we could do no wrong. Sure, innocent people will die in war, but it's for The Greater Good. The Iraqi people may not believe it right now, but once we've dealt with some bad apples and established a functioning democracy there, surely they will come around and appreciate the favor we have done for them.
It's hard for me to believe now that this is the way I felt back then. I was probably even more pro-war than the average American. But it does give me some perspective on why people are so deluded about war, and reinforces my belief that ending foreign aggression in all its forms is the single most important thing that we as activists must be working toward.
America – Reluctant Fighter Of "Just Wars"
It is very difficult to garner support for wars of conquest in a modern, liberal democracy. In the past, religion was often used to justify war ("Kill the heathens!"), but this justification has lost much of its appeal.
But while that justification is no longer so effective, the need for the elite to wage war and line their pockets with the proceeds hasn't ceased. A new way of deluding the public was necessary.
Westerners love to think of themselves as advanced, progressive, humanitarian, and morally righteous. This is true all across the political spectrum (that's right, liberals. Even the neocons believe that they are doing a good thing, as silly as that sounds). In order to get your average American to support war, you just need to convince them that it is for humanitarian reasons: the enemy is evil, slaughtering his own people, and a new "Hitler." We can use our military might to change the enemy, to liberate the people who are victims of some monster, and to bring them democracy and responsible governance.
I can do no better than to cite David Swanson from his book War Is A Lie here (you can read chapter 1 here, and I strongly suggest you do):
"The long-standing tradition of making war on foreigners and converting those not killed to the proper religion "for their own good" is similar to the current practice of killing hated foreigners for the stated reason that their governments ignore women's rights. From among the rights of women encompassed by such an approach, one is missing: the right to life, as women's groups in Afghanistan have tried to explain to those who use their plight to justify the war. The believed evil of our opponents allows us to avoid counting the non-American women or men or children killed. Western media reinforce our skewed perspective with endless images of women in burqas, but they never risk offending us with pictures of women and children killed by our troops and air strikes."
If there is a positive intention behind any given war, many Americans will support it almost unquestioningly. Invading Afghanistan = Liberating women and catching Osama. Bombing Libya and/or Syria = saving the people from a ruthless dictator. These justifications are even used to revise the past; many people consider World War 2 to be a paradigmatic example of a just war because it ended the holocaust. Of course, there were many opportunities to save the Jews without going to war, and saving the Jews was never used as a part of World War 2 propaganda at the time (which was mostly focused on dehumanizing the Japanese).
On a slightly more academic level, pundits and philosophers have tried to ascertain what conditions can be used to determine whether a potential war is, in fact, a just war. Damon Linker elaborates:
"[There are] six criteria just war theorists…use to determine when a war is morally justified. The war must be undertaken with the intention of establishing a just peace. It must be defensive. It must be aimed at protecting the innocent against unjust aggression. It must have a reasonable chance of success. It must be declared and waged by a competent governing authority. And it must be undertaken as a last resort. If the war meets these six criteria, it can be considered morally justified."
In theory, this would sound highly limiting. Very few, if any, wars would actually fulfill each of these criteria. And yet Americans can justify practically every single war based on these criteria.
"We always have a moral rationale for undertaking military action. We always consider our actions defensive (even if the aggression hasn't happened yet) and aimed at protecting the innocent. We always think we have a reasonable chance of success. We always consider ourselves to be a competent authority. And we always claim to have waited as long as possible to act."
We delude ourselves into believing we have great reasons to act, that if we don't act now, something horrible will happen, and that we are just protecting ourselves and the helpless, downtrodden victims of whoever the enemy-of-the-day is. If anything, "just war" theory simply provides a self-righteous justification for whatever war the elite are planning. Not only that, but it grants the United States government and her allies the moral "authority" to play judge, jury, and executioner as the world's policeman (incidentally, this seems to be the way actual police in America are behaving as well).
Americans fail to realize that their government is not acting defensively, and certainly does not have a moral rationale for much of the military adventurism that is obediently and unquestioningly supported.
In fact, most Americans are likely unaware of how militarily aggressive their government truly is. Since America's founding, there have been hundreds of instances of military use in foreign lands. There are only a handful of years throughout American history where America has not been at war abroad.
In addition, William Blum counts at least 55 instances since World War 2 where the United States has attempted to overthrow a foreign government (often a democratically elected one), many times successfully.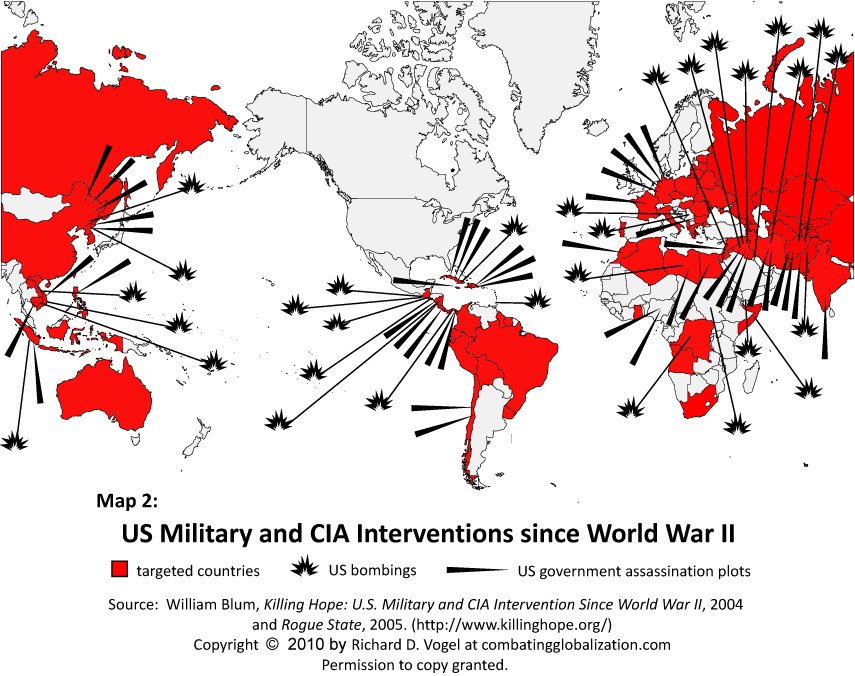 And while the United States has often attempted to take down truly evil people, this is a red herring. For every petty dictator the US tries to overthrow, there are more who the US emphatically supports. The US is even backing the fascist, neo-Nazi government in Ukraine, and supporting the use of child soldiers in South Sudan. For all the railing against ISIS and how barbaric they are to behead people, the United States stands firmly behind Saudi Arabia, which beheads far more people for such "crimes" as sorcery and pleading not guilty of a crime. Better yet, the US government itself has been supporting ISIS, I kid you not.
Of course, America can do no wrong, so Americans routinely ignore these inconvenient facts. The illusion must be maintained that it is only the enemy who commits atrocities. David Swanson provides this example:
"It is as important, in selling a war, to deny or excuse one's own atrocities as to highlight or invent the enemy's. President Theodore Roosevelt alleged atrocities by the Filipinos, while dismissing those committed by U.S. troops in the Philippines as of no consequence and no worse than what had been done at the massacre of the Sioux at Wounded Knee, as if mere mass murder were the standard of acceptability. One U.S. atrocity in the Philippines involved slaughtering over 600, mostly unarmed, men, women, and children trapped in the crater of a dormant volcano. The General in command of that operation openly favored the extermination of all Filipinos."
This type of hypocrisy, buttressed by massive propaganda efforts, is so standard that it boggles the mind. Once you begin to recognize it, you see it everywhere. You see it in so many places that you wish you did not. Occasionally I question my own sanity when I observe the absurdity of Americans continuing to believe the same lies and ignore the same hypocrisies over and over and over again.
Take the 2003 invasion of Iraq, for instance. To justify this war, we were repeatedly told that Saddam Hussein had been using chemical weapons on his own people. This is certainly true. What is universally ignored is the fact that the United States supplied Saddam with chemicals weapons during the 80s in order to use against Iran (and supplied him with intelligence so he could use them more effectively). Just one of many reasons why the Iranian government doesn't trust us.
That's a sin of omission. How about a sin of commission?
"On October 9, 1990, a 15-year-old Kuwaiti girl told a U.S. congressional committee that she'd seen Iraqi soldiers take 15 babies out of an incubator in a Kuwaiti hospital and leave them on the cold floor to die. Some congress members, including the late Tom Lantos (D., Calif.), knew but did not tell the U.S. public that the girl was the daughter of the Kuwaiti ambassador to the United States, that she'd been coached by a major U.S. public relations company paid by the Kuwaiti government, and that there was no other evidence for the story.  President George H. W. Bush used the dead babies story 10 times in the next 40 days, and seven senators used it in the Senate debate on whether to approve military action. The Kuwaiti disinformation campaign for the Gulf War would be successfully reprised by Iraqi groups favoring Iraqi regime change twelve years later."
These kinds of lies are so routine that even providing that single example may do my argument a disservice. I can't possibly list even a miniscule fraction of them, and any attempt to do so would inevitably result in important omissions.
Nevertheless, it is clear that, for war to have public support, the government must convince its subjects that they are acting on the side of righteousness, that they are The Good Guys who must defeat The Bad Guys. And most Americans will go along, because we want to believe that "we" are the good guys. As the great George W. Bush once said:
"We're taking action against evil people. Because this great nation of many religions understands, our war is not against Islam, or against faith practiced by the Muslim people. Our war is a war against evil. This is clearly a case of good versus evil, and make no mistake about it – good will prevail."
In every war, the enemy is made out to be pure evil – it makes it far easier to get your soldiers to kill those people and your civilians to cheer them on or buy war bonds. But while the manipulation may serve elite interests, it makes no logical sense.
"But just as the supposedly irredeemable heathen were converted to the correct religion when the screaming and dying stopped, so too do our wars eventually come to an end, or at least a permanent occupation of a pacified puppet state. At that point, the irredeemably evil opponents become admirable or at least tolerable allies. Were they evil to begin with or did saying so just make it easier to take a nation to war and persuade its soldiers to aim and fire? Did the people of Germany become subhuman monsters each time we had to make war on them, and then revert to being full humans when peace came? How did our Russian allies become an evil empire the moment they stopped doing the good humanitarian work of killing Germans? Or were we only pretending they were good, when actually they were evil all along? Or were we pretending they were evil when they were only somewhat confused human beings, just like us? How did Afghans and Iraqis all become demonic when a group of Saudis flew airplanes into buildings in the United States, and how did the Saudi people stay human? Don't look for logic." – David Swanson
Ignoring The Costs Of War
For Americans to fully support a war, it often isn't enough to whip them into a frenzy of fear and jingoistic sentiment. War is expensive in terms of blood, treasure, and its toll on society, so it is important that the impact of these costs of war be minimized.
Americans happen to be very lucky when it comes to war. Surrounded by two oceans and two far weaker allies, it is very unlikely that any war the United States gets involved in would have drastic consequences for American civilians. Other than a couple of Japanese weather balloon experiments during World War 2, Americans haven't experienced attacks at home since the Civil War ended.
War is also very expensive from a strictly financial perspective. But Americans don't pay for war directly – the United States simply goes into huge amounts of debt and prints massive quantities of money in order to fund the war effort. This helps mask the true cost of war; instead of actually paying for it directly, Americans pay via higher prices and enslaving their children with debt.
Consider this: the total cost of the Iraq and Afghanistan wars will likely amount to somewhere between $4 and $6 trillion dollars. This comes out to between $35,000 and $52,000 per household in the United States. According to the US Census Bureau, the median household income in 2013 was just under $52,000. Here's a thought experiment: if Americans were told at the outset that they would have to sacrifice a full year of income to pay for these wars, how many people would have supported them? To ask the question is to answer it.
The result of all of this is that for the average American, war is simply no big deal. It happens "over there" and has no immediate effect on our lives (other than expanded mass surveillance and loss of liberties, a concession it seems most Americans are quite willing to make). This makes it easy for many Americans to forget what a horrendous thing war is – and to come up with some twisted justifications for it. War means little to the majority of Americans, but to the neoconservatives and the "humanitarian" interventionists with their "responsibility to protect" (R2P) doctrine, it provides a cheap excuse to feel good about themselves.
Even if using the military to intervene in foreign affairs were likely to help people – and there are many reasons to believe that regional interventions are misguided and counterproductive – this hardly makes war morally justified.
Think of it this way: nearly everyone would agree that it is morally wrong to murder a random person and harvest their organs in order to save five other peoples' lives. Many might put the ratio far higher than five to one. This means that for a war to be justified as "humanitarian," at least five innocent lives would need to be saved for every one innocent life lost, and this is ignoring the massive uncertainty inherent in the actual decision-making process, the propensity to underestimate casualties, etc. As we will see later, it is highly unlikely that this would ever be the case.
And yet, in large part because Americans are so far removed from the costs of war, they can come up with all kinds of utilitarian justifications for it. It is a "necessary evil." "We've got to crack a few eggs to make an omelet." And so on. Tolstoy's words ring true here: war, he said, "is not a polite recreation, but the vilest thing in life, and we ought to understand that and not play at war."
How can wars be used to fight against evil when there is nothing more evil than war?
Forgetting The Human Element
The ultimate result of everything covered thus far – the propaganda, the hypocrisy, the remoteness of war – leads to the failure to look at people as individuals and as real human beings.
Stalin famously said that a single death was a tragedy, but a million deaths was just a statistic. The reality is that a million deaths are a million tragedies; unfortunately, people choose not to see it that way. There are many reasons to be against war, but ultimately it comes down to the sheer scale of the human cost, the million individual tragedies.
It is not easy to count the dead in war, but people have done their best to compile estimates. World War 1 resulted in approximately 15 million deaths. World War 2 resulted in about 66 million dead, primarily civilians. Approximately 3 million died in the Korean War, and another several million in Vietnam. Over a million people, almost entirely civilians, have died as a result of the US invasions of Iraq and Afghanistan (despite the Pentagon's attempts to fudge the numbers), which is only one part of the incredible human cost of these wars.
And those figures ignore the particular atrocities of war: massacres, rapes, displacement of people. In fact, 90% of all war deaths are civilians. Take Vietnam:
"According to study by Harvard Medical School and the University of Washington, there were 3.8 million violent war deaths, of which two million were civilian, with similar estimates reached by the Vietnamese government and Robert McNamara himself. Up to 500,000 Vietnamese women turned to sex work. 14,000 South Vietnamese civilians were killed, mostly by U.S. firepower, during the Tet Offensive. 70 million liters of herbicidal agents, notably Agent Orange, were dumped across the countryside. ("Only you can prevent forests" was the travestied Smokey the Bear slogan.) 3.4 million combat sorties were launched by the U.S. and South Vietnam between 1965 and 1972. The amount of ammunition fired per soldier was 26 times higher than in World War II. In the northernmost province of South Vietnam, Quang Tri, only 11 out of 35,000 villages were not damaged by bombing or artillery. A survey found that 96 percent of Marine Corps second lieutenants said they would torture prisoners to obtain information."
Another inconvenient truth that most Americans don't hear about is that due to American sanctions, up to half a million Iraqi children starved to death during the 1990s.
"There are disputes over the exact number of children who died as result of the sanctions, but most everyone agrees that the number ranges between 225,000 and 500,000…Let that sink in: Our own government — the U.S. government — knowingly and deliberately implemented and maintained a cruel and brutal policy with the intent to target the civilian population of Iraq, with the full knowledge that it would cost the lives of countless innocent people, including innocent children.

Even worse, year after year, knowing full well that economic privation, near-starvation, and death were the actual results of the embargo — and that it was not producing the ouster of Saddam Hussein from power — U.S. officials nonetheless steadfastly continued it."
When asked about the effects of these sanctions, US Ambassador to the UN Madeleine Albright said they were "worth it."
Worth it for whom?
Oh yeah, and the United States is the only nation to ever use nuclear weapons. In particular, they were used on civilian populations, resulting in hundreds of thousands of innocent deaths.
I'm afraid that, in the spirit of Stalin's words, the magnitude of these atrocities can get lost in the minds of most people. Many people claim they cannot "understand" or "believe" or "comprehend" these kinds of atrocities.
Let me try to help you understand.
Each one of those dead is a parent who will never see their child grow up, leaving behind a kid who must grow up without them. Each one of those dead is a child who could have lived a full life. Instead, they are the cause of the greatest sadness that a parent can experience.
Each one of those dead is a brother, sister, husband, wife, cousin, or friend. They are a human being.
When our politicians talk about the sacrifices that "we" make to "liberate" another country, they are not talking about their own sacrifices. Their "sacrifice" is to collect more money for their next campaign cycle and ensure that they have lucrative jobs in the military-industrial complex when they leave office.
No, it is everyone else who had no say in the decision to go to war who must sacrifice. More accurately, they are sacrificed on the altar of power. These people did not sign up for war. They did not ask to be murdered. They did nothing to deserve being murdered.
But these people are dead. That means no more life, no more learning, no more career, no more sharing happy moments with each other, no more music, no more friendship, no more love.
These people will never get to taste delicious food, watch a sunset, feel a cool breeze on their skin, smell freshly cut grass, or hear a beautiful melody.
Each and every one of these people meant something. They had family and friends who loved them, they had jobs and contributed to their communities, and they had hopes and dreams and aspirations. Just like you, me, or anyone else.
These lives have been stolen by the elite political and corporate warmongers, and they can never be brought back. The last memory a child will have of his parents is of them being burned alive by a drone strike so badly that their skin is indistinguishable from cattle. The last memory a parent will have of their child is of them screaming in pain and terror, confused as to what they have done to deserve their fate.
These people are dead. Barack Obama murdered them. George Bush murdered them. As Harry Browne said, they murdered these people "as certainly as though [they] personally had fired a rocket launcher at their homes."
All this death is meaningless. The only purpose of war is so that psychopathic politicians can enjoy their little power trips, and so that big defense and energy companies can make a few extra billion dollars. War is a racket, pure and simple.
Many will euphemistically and irresponsibly talk of "collateral damage." They will say these deaths are unintended, as though somehow that implies that they don't count. But innocent people WILL die in war. If you support war, you support innocent people dying, being maimed for life, and losing everything they have. You cannot simply separate war from the tragedies that it spawns. Those who launch wars do so knowing full well that they are causing innocent people to die, and those who support them are advocating for death and destruction.
Under normal circumstances, this is called mass murder. War turns otherwise normal people into sociopaths. What the average war supporter is advocating others to do on their behalf, they would never do on their own. War supporters would not go out and shoot innocent people, but they will happily delegate that task to someone else. Meanwhile, they feel proud of themselves and may even put a bumper sticker on their car saying as much.
This all stems from the failure of people to look at others as individuals, as fellow human beings. It is far easier to cheer on the deaths of some ambiguous, generic Iraqis than to cheer on the death of a person who is real to you. As Lucy Steigerwald said:
"Being anti-war requires a faith in people of a different religion who live in places most of us will never visit. It demands empathy and recognizing their humanity, regardless of culture clashes."
This may require putting yourself in their shoes. Imagine how you would feel if the roles were reversed – if bombs were raining down on your city, your family and friends were getting maimed and murdered. It is this kind of empathy that is required to stop people from worshipping cowardly monsters like Chris Kyle, the famed "American Sniper." Imagine what would happen if some Middle Eastern country really did try to take over America, and Americans fought back. Enter an Arabian Sniper:
"A guy named Abdul is hiding on a roof top in Wichita, using a scoped rifle to shoot people he believes are intending to kill other members of his army of invaders. If the person in his scope looks American- in other words, if the person obviously isn't one of his guys- and is armed, he shoots. Man, woman, child- it makes no difference. After all, he tells himself, these dogs deserve it because they are all the same, and they want to kill him and his guys."
When Abdul returns to his home country, his people consider him a hero. As an American, do you?
Such is the irrationality that must be overcome. If it is not okay for them to kill us, then it is not okay for us to kill them. War is just mass hypnotic psychosis. It is always wrong. But powerful interests will always be pushing for more war and more death. It is the job of each and every one of us to have empathy for others and to refuse to resolve our disputes through violence.
"Those who make the wars never have to fight the wars.  The Great Deciders will never be in a night ambush, where the fear is so overpowering that their bodily control abandons them, and they shit themselves.  And the defense contractors, engorged on obscene profits, will never have to kick open a mud hut door after strafing it with automatic weapons fire, and discover a heap of dead children beneath a wounded mother, who is so traumatized that she cannot even scream.  And the media tycoons cheerleading for more carnage, will never rush to the flag-draped coffin of a dead son or daughter and wrap themselves around it in fury as the military band tries to sound heroic."