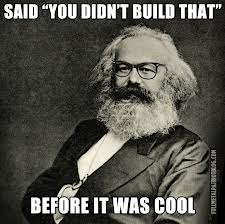 Stay Informed
Never miss a blog post again
Karl Marx's view of economics is in many ways nearly the opposite of mine. Nevertheless, I think he has made many interesting contributions to the study of social institutions. To learn more about his views, I recently read most of Robert Tucker's
The Marx-Engels Reader
, which contains many samplings of his (and Engel's) works on a variety of subjects.
As I read through these selections, I particularly noted how Marx's mindset regarding labor is so radically different from my own – and I think this mindset is actually quite prevalent today among many, particularly those on the left. It would be instructive to compare and contrast these differing views on labor, at least in part because his views make his belief in the thoroughly discredited labor theory of value more understandable.
Before we explore this any further, I want to start with a disclaimer: I am not a Marx scholar. My knowledge of his thought is limited – though I likely have read, at this point, somewhat more of his work than many people who claim to know a thing or two about him. Nevertheless, my interpretations of his quotes here are mine only, so if you are reading this and happen to be a Marxist, feel free to set me straight. It's tough to read 19th century philosophers…

Estranged Labor
Many people are familiar with (the existence of, at least) Marx's seminal work on economics and his critique of capitalism: Das Kapital.  Fewer are aware of his Economic and Philosophic Manuscripts of 1844, selections of which I found far more interesting than Capital, frankly. The following quotes are from these manuscripts under the subheading "Estranged Labour," from Marxist.org.
All these consequences are implied in the statement that the worker is related to the product of labor as to an alien object. For on this premise it is clear that the more the worker spends himself, the more powerful becomes the alien world of objects which he creates over and against himself, the poorer he himself – his inner world – becomes, the less belongs to him as his own. It is the same in religion. The more man puts into God, the less he retains in himself. The worker puts his life into the object; but now his life no longer belongs to him but to the object. Hence, the greater this activity, the more the worker lacks objects. Whatever the product of his labor is, he is not. Therefore, the greater this product, the less is he himself. The alienation of the worker in his product means not only that his labor becomes an object, an external existence, but that it exists outside him, independently, as something alien to him, and that it becomes a power on its own confronting him. It means that the life which he has conferred on the object confronts him as something hostile and alien.
According to Marx, labor is essentially a zero-sum game. When you work, you lose. Specifically, you lose a part of yourself whenever you are working.
There is a distinction, not made in this quotation but derived from my (limited) knowledge of Marxist thought, which is important to mention. Expenditure of labor power in and of itself isn't necessarily "bad" – only when it is done for a capitalist, who supposedly is siphoning off some of this labor power, is there a loss in this sense. Presumably, if the worker were to keep the entire product of his labor via owning the means of production, then he would no longer "lose" part of himself to it.
Any way you spin it, Marx does not look at labor in a particularly intuitive way. For Marx, the creation of an object implies an equivalent destruction of the self.
It is true that time spent laboring is time that cannot be spent doing something else – that is, that there is an opportunity cost to labor. When I am working, I am not attending the theater, I am not playing volleyball, nor am I going on a date. There most certainly is a "loss" in this regard. But everything has an opportunity cost – when I'm on a date, I am not writing. This does not imply that I am any worse off because of it.
Next quote:
(According to the economic laws the estrangement of the worker in his object is expressed thus: the more the worker produces, the less he has to consume; the more values he creates, the more valueless, the more unworthy he becomes; the better formed his product, the more deformed becomes the worker; the more civilized his object, the more barbarous becomes the worker; the more powerful labor becomes, the more powerless becomes the worker; the more ingenious labor becomes, the less ingenious becomes the worker and the more he becomes nature's slave.)

Political economy conceals the estrangement inherent in the nature of labor by not considering the direct relationship between the worker (labor) and production. It is true that labor produces for the rich wonderful things – but for the worker it produces privation. It produces palaces – but for the worker, hovels. It produces beauty – but for the worker, deformity. It replaces labor by machines, but it throws one section of the workers back into barbarous types of labor and it turns the other section into a machine. It produces intelligence – but for the worker, stupidity, cretinism.
I find it hard to understand his point here. If a worker is employed by a capitalist, producing more does not imply consuming less, even if one accepts the labor theory of value. To produce more may sometimes imply working harder, in which case the worker's required subsistence consumption will increase slightly. But it could also mean the worker is simply more productive, which ought to generally happen over time.
Marx says that the product of labor is primarily directed towards consumption by the rich. But if anything, capitalism is about mass production. You'll find no argument from me against the idea that the system of state capitalism concentrates wealth in the hands of the few – and that this is the system that was prevalent both then and now – but the products themselves are not simply intended for sole consumption by the rich.
I'm not arguing here that capitalism (again – state capitalism) is completely fair to laborers. But how can he say that workers lose a part of themselves when they work?
What, then, constitutes the alienation of labor?

First, the fact that labor is external to the worker, i.e., it does not belong to his intrinsic nature; that in his work, therefore, he does not affirm himself but denies himself, does not feel content but unhappy, does not develop freely his physical and mental energy but mortifies his body and ruins his mind. The worker therefore only feels himself outside his work, and in his work feels outside himself. He feels at home when he is not working, and when he is working he does not feel at home. His labor is therefore not voluntary, but coerced; it is forced labor. It is therefore not the satisfaction of a need; it is merely a means to satisfy needs external to it. Its alien character emerges clearly in the fact that as soon as no physical or other compulsion exists, labor is shunned like the plague. External labor, labor in which man alienates himself, is a labor of self-sacrifice, of mortification. Lastly, the external character of labor for the worker appears in the fact that it is not his own, but someone else's, that it does not belong to him, that in it he belongs, not to himself, but to another. Just as in religion the spontaneous activity of the human imagination, of the human brain and the human heart, operates on the individual independently of him – that is, operates as an alien, divine or diabolical activity – so is the worker's activity not his spontaneous activity. It belongs to another; it is the loss of his self.
To some extent, this mentality makes considerably more sense in the context in which Marx was living and writing – in the latter stages of the Industrial Revolution, where much of the non-agricultural work was somewhat unstimulating, repetitive factory work. I'm sure that work was terribly uninteresting, and that laborers would have vastly preferred to be sitting at home on the couch with a cold beer.
But humanity had not accumulated nearly so much capital then as we have now. The general state of existence in terms of wealth was far inferior back then. It's easy for me to say that I would prefer to be working at a software company than toiling away in an uncomfortable factory. But in a world with vastly less capital, I wouldn't have the choice of such luxuries. The fact is, since these workers chose to work in the factories, even in poor conditions, they have demonstrated the preference for this work instead of their alternatives (perhaps starving to death?).
Of course, Marx disagrees. He considers labor to be "forced labor." Why? Because people don't like doing it, and prefer leisure instead.
But even people who do own the means of production (the self-employed, wealthy capitalists, etc.) hate their jobs. Job-hating is so common that it doesn't even warrant discussion. And it's not even necessary for people to specifically hate their job to disprove his claim; the vast majority of people would prefer leisure to work, even if they enjoy their job.
Labor is only "forced" in this sense in that it is forced by our very nature as humans who run on fuel. We die without some form of sustenance, but this sustenance is not simply provided for us willy-nilly. This isn't the Garden of Eden. We must create food, and we choose to create most other things because they make our lives more enjoyable.
To Marx, however, a far superior solution would be if we did live in a Garden of Eden. Even if workers owned the means of production, they'd still need to work, and the work would be just the same. How would this situation fundamentally differ with regards to losing a part of yourself to the object of your labor?
One final quote, from Marx's Grundrisse, under the section called The Development of Exchange and of Capital:
…the relation of slavery or serfdom has been suspended. Living labour capacity belongs to itself, and has disposition over the expenditure of its forces, through exchange. Both sides confront each other as persons. Formally, their relation has the equality and freedom of exchange as such. As far as concerns the legal relation, the fact that this form is a mere semblance, and a deceptive semblance, appears as an external matter. What the free worker sells is always nothing more than a specific, particular measure of force-expenditure; labour capacity as a totality is greater than every particular expenditure. He sells the particular expenditure of force to a particular capitalist, whom he confronts as an independent individual. It is clear that this is not his relation to the existence of capital as capital, i.e. to the capitalist class. Nevertheless, in this way everything touching on the individual, real person leaves him a wide field of choice, of arbitrary will, and hence a formal freedom. In the slave relation, he belongs to the individual, particular owner, and is his laboring machine. As a totality of force-expenditure, as labour capacity, he is a thing belonging to another, and hence does not relate as subject to his particular expenditure of force, nor to the act of living labour. In the serf relation he appears as a moment of property in land itself, is an appendage of the soil, exactly like draught-cattle. In the slave relation the worker is nothing but a living labour-machine, which therefore has a value for others, or rather is a value. The totality of the free worker's labour capacity appears to him as his property, as one of his moments, over which he, as subject, exercises domination, and which he maintains by expending it.
To Marx, once you have sold your labor-power to a capitalist, you have become his slave, his "laboring machine." In a state capitalist system, I actually think there's something to be said for this idea. Due to state intervention, the relative power of major corporations as compared to lowly workers is gigantic. No, I would no go so far as to call it slavery, but there are certainly similarities.
For instance, people are "forced" to work for lower wages in the sense that government policies limit the availability of work in general, thus giving the capitalist/employer far more leverage in the hiring process.
But I suspect Marx holds this to be generally true of market-based systems (correct me if I'm wrong, Marxists!). On the contrary, under a system of freed markets, this power imbalance would radically shift. People could choose to work or not work however they saw fit. This labor would not be "forced" in the least bit, except insofar as people need stuff to stay alive – but as discussed earlier, this can't be considered forced either.
Conclusion
I thought these quotes were interesting, and I don't think they are referenced all too frequently. They provide a helpful window into the Marxist mind, which is useful nowadays, because of the extreme influence Marxism has had on modern political discourse, both left and right.
It seems to largely boil down to a theory of entitlement, which seems so common to me when I read typical mainstream opinion pieces. Everyone wants something for nothing, and nowadays, it is always the state which is there to provide it, if only the people are willing to ask (and even if they aren't…).
Marx's analysis of capitalism (but not freed markets) is prescient in many ways, and is worth studying for radical libertarians. But it is mighty unfortunate that such a great mind made such simple errors when it comes to labor.